The UK Parliament has closed down its TikTok account after MPs raised concerns about the risk of data being passed to the Chinese government.
The account has been locked, and content deleted, days after its launch.
Senior MPs and peers had called for the account to be removed until TikTok gave "credible assurances" no data could be handed to China.
TikTok is owned by Chinese company ByteDance, which has denied it was controlled by the Chinese government.
Relations between London and Beijing have been fraught in recent years, with tensions heightened by China's sanctioning of several MPs last year.
"Based on member feedback, we are closing the pilot UK Parliament TikTok account earlier than we had planned," a UK Parliament spokesman said.
"The account was a pilot initiative while we tested the platform as a way of reaching younger audiences with relevant content about Parliament."
A TikTok spokeswoman told the BBC it was "disappointing" that Parliament would not be able to connect with users of the app in the UK.
Offering to reassure the MPs who raised concerns, the spokeswoman said TikTok would be willing to "clarify any inaccuracies about our platform".
Security concerns
Peers and MPs – including former Conservative leader Sir Iain Duncan Smith and recent Tory leadership contender Tom Tugendhat – flagged those concerns in a letter to the speakers of both Houses of Parliament.
In the letter, the peers and MPs, who have been sanctioned by the Chinese government for speaking out about human rights abuses in the country, said they were "surprised and disappointed" by Parliament's decision to set up the account.
The letter said the data security risks associated with the app were "considerable".
TikTok executives were "unable to reassure MPs that the company could prevent data transfer to ByteDance, should the parent company make a request for it", the letter said.
It added: "The prospect of Xi Jinping's government having access to personal data on our children's phones ought to be a cause for major concern."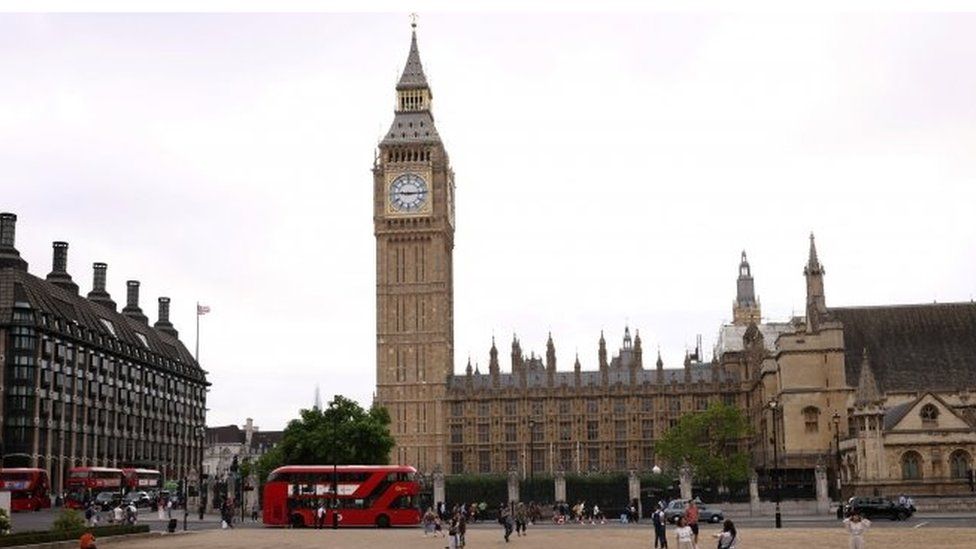 The BBC understands TikTok has written to all the peers and MPs who signed the letter, offering to meet them and explain their data protection processes.
Last month Theo Bertram, TikTok's vice president for government relations and public policy in Europe, wrote to MP Darren Jones, the chairman of the Business, Energy and Industrial Strategy Committee.
In a letter Mr Bertram said "we have never been asked to provide TikTok user data to the Chinese government, nor would we if asked".
Nus Ghani, one of the Tory MPs who expressed concerns about TikTok, welcomed the shut-down of Parliament's account on the app.
In a tweet, she thanked the speakers for "standing up for our values and protecting our data", adding "common sense prevails".
Her tweet included a letter from the speakers, who said they "were not consulted on the plans for this pilot project".
The BBC is not responsible for the content of external sites.View original tweet on Twitter
The perceived national security risks posed by Chinese tech is one of several issues straining the London's relations with Beijing.
The decision to remove of Huawei's 5G equipment from Britain's mobile networks by 2027 prompted fears of a tit-for-tat economic war in 2020.
Then last year China sanctioned UK organisations and several MPs, including Sir Iain, over what it called the spreading of "lies and disinformation" about human rights abuses in its Xinjiang region.
TikTok's role in the UK's social media landscape was raised last month during the first one-on-one televised debate between Tory leadership candidates Rishi Sunak, the former chancellor, and Foreign Secretary Liz Truss.
BBC economics editor Faisal Islam asked Ms Truss: "Are you going to crack down on TikTok, like some of your MPs have suggested?"
In response, Ms Truss said: "We absolutely should be cracking down on those types of companies."
In the debate Ms Truss did not specify exactly what she meant by "cracking down".
But Ms Truss's campaign later told the BBC she wanted to do more to ensure critical technologies were not exported for use by authoritarian regimes, and make sure that international firms abide by UK rules.
Elsewhere some other countries – notably India and the United States – have sought to impose restrictions on TikTok.