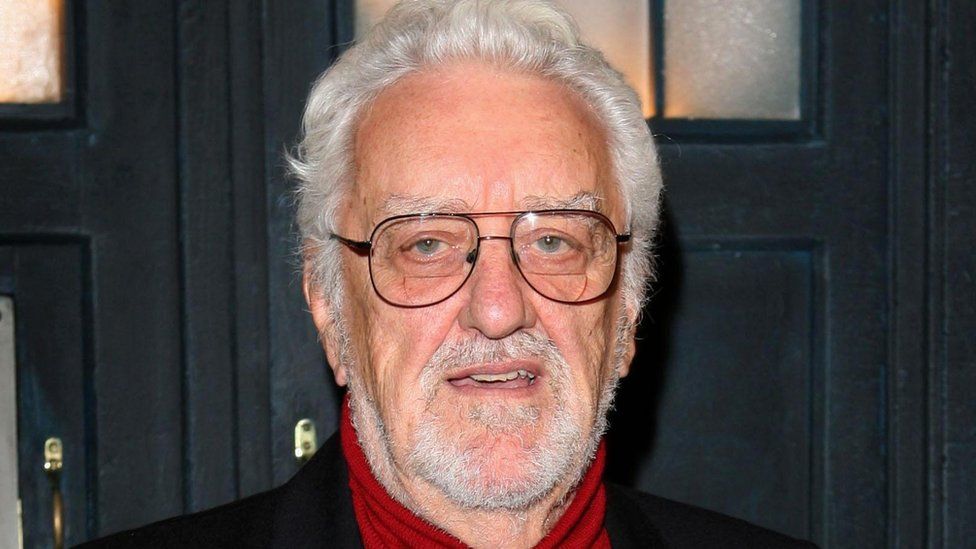 Doctor Who and Wombles actor Bernard Cribbins has died aged 93, his agent has confirmed.
During a career that spanned seven decades, Cribbins narrated the 1970s children's programme The Wombles.
He also played the Doctor's companion Tom Campbell in the 1966 film Daleks' Invasion Earth 2150 A.D. returning 41 years later in the revived TV series.
Cribbins returned to the show a as Wilfred Mott, the grandad of Catherine Tate's character Donna.
The actor was known by generations of children – he also played the station porter Albert Perks in 1970 film The Railway Children.
Former Doctor Who showrunner Russel T Davies led the tributes, posting a picture of him on set, while saying: "I'm so lucky to have known him. Thanks for everything, my old soldier. A legend has left the world."
A statement from Cribbins' agent said his career featured "such diverse work", including the Carry On series, hit 60s song Right Said Fred and as a notorious hotel guest on Fawlty Towers.
"He worked well into his 90s, recently appearing in Doctor Who and the CBeebies series Old Jack's Boat," they added.
"He lost his wife of 66 years, Gill, last year.
"Bernard's contribution to British entertainment is without question. He was unique, typifying the best of his generation, and will be greatly missed by all who had the pleasure of knowing and working with him."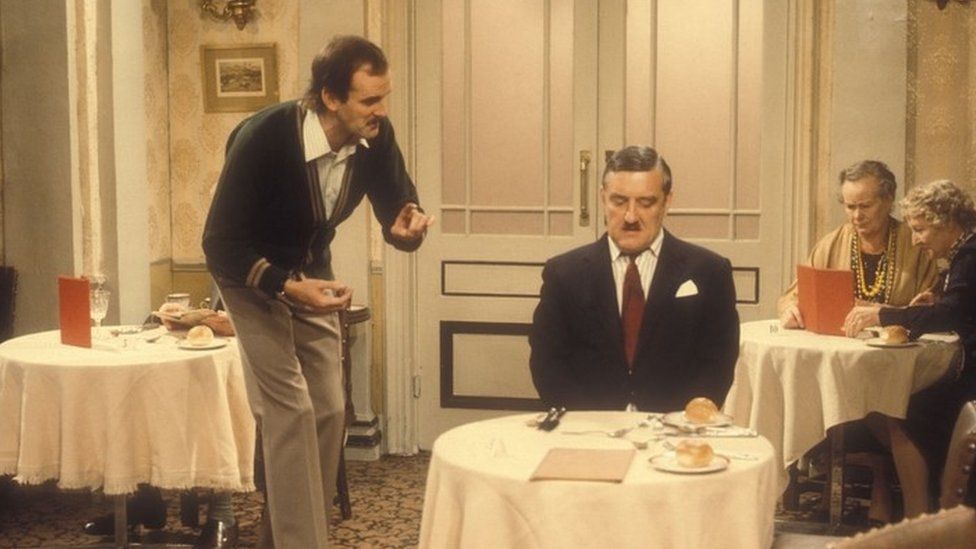 As an actor, comedian, singer and raconteur, he tried his hand at everything, from Shakespeare to pantomime, Jackanory to Top of the Pops.
Born in Oldham in 1928, Cribbins left school at 13 and found work as an assistant stage manager at a local theatre club, taking on small acting roles before serving an apprenticeship at the Oldham Repertory Theatre.
The actor became well-known in the UK for having a string successful novelty records in the 1960s such as Right Said Fred and The Hole in the Ground – a monologue which Noel Coward selected as one of his Desert Island discs.
He also appeared in comedy films like including Two-Way Stretch.
In the 1970s he landed some major big screen roles, playing barman Felix Forsythe in Alfred Hitchcock's Frenzy.
In the poplar sitcom Fawlty Towers Cribbins appeared memorably as the ostentatious hotel guest and spoon salesman Mr Hutchinson, in the episode where frustrated owner Basil expects a visit from the hotel inspectors.
Storytelling skills
Cribbins' voice was a fixture in UK living rooms, thanks to shows like Jackanory, which he frequently read stories on from 1966 to 1991.
He performed the title role in the CBeebies series Old Jack's Boat from 2013 2015.
In a 2014 interview with the Guardian, Cribbins gave his thoughts on what makes him such a renowned storyteller.
"Well, I think I'm a good actor, without being boastful," he said. "I have an array of voices. And intensity is a word you might use. Engage with that little figure on the other side of the lens."
At the age of nearly 90, he published an autobiography looking back on his years in show business in 2018. Its title was Bernard Who? 75 Years Of Doing Absolutely Everything – and its advice was simple.
"Do your best and be grateful for every single job".
'Stories to make hair curl'
Davies' dedication to Cribbins, in which he recalled the late star's first day back on the Doctor Who set: "His first day was on location with Kylie Minogue, but all eyes, even Kylie's, were on Bernard. He'd turned up with a suitcase full of props, just in case, including a rubber chicken," he said. "And what an actor. Oh, really though, what a wonderful actor."
"We once took him to the TV Choice Awards and sent him up on his own to collect the award, and the entire room stood up and cheered him," he added. "That's a lovely memory."
Journalist Aaron Potter said: "[Cribbins was] a British acting legend in his own right, sure, but he always brought a charm, heart, and soul to modern Doctor Who as Wilf, lighting up the screen whenever he showed up.
"Watching him reappear during the 60th will come with a tinge of melancholy now."
"It was so special to work with Bernard Cribbins," wrote actress Helen Lederer, describing him as the "king of props and stories to make hair curl".
The Gold channel, which broadcasts repeats of vintage British TV sitcoms, tweeted: "We'll be having a cheese salad for lunch, in honour of his memorable appearance in Fawlty Towers."