Referenced Symbols
If you consider yourself to be a contrarian long-term investor, keeping things simple might be the best bet in this bear market for stocks.
The benchmark S&P 500 Index SPX, +1.92% has fallen 20% this year, the worst start to a year in decades.
"This is precisely what you want to see if you are putting money to work," according to John Buckingham, editor of The Prudent Speculator newsletter.
Buckingham has named seven value stocks to buy now, which he labeled "bargains thrown out with the bath water" in a recent report to clients. They are listed below.
The Prudent Speculator is published by Kovitz Investment Group of Chicago and remains at the top of the list for 30-year returns among newsletters tracked by the Hulbert Financial Digest. The TPS portfolio's average annualized 30-year return is 14.5% through June 30, compared with 9.9% for the S&P 500, with dividends reinvested monthly, according to Hulbert.
During an interview, Buckingham explained the role of market psychology in investing: "You don't want everyone to be euphoric. You want them to be down in the dumps."
The idea is that there is nothing unusual about a 20% decline in stock prices. Broad market declines must be expected and even embraced for long-term success.
The Prudent Speculator's portfolio includes 80 stocks identified as suitable for three- to five-year investments. Starting with about 3,000 publicly traded U.S. companies, Buckingham and his colleagues narrow the list to identify highly liquid, "potentially undervalued" names relative to the market.
One aspect of the value strategy is low prices relative to expected earnings. Buckingham said the TPS portfolio's forward price-to-earnings (P/E) ratio was 10.4 as of July 12. In comparison, the forward P/E ratio for the Russell 1000 Value Index RLV, +2.13% was 13.5 (according to Kovitz, using Bloomberg data) and the forward P/E for the S&P 500 was 16.8 (according to FactSet).
Here's more about the seven listed companies:
All have majority "buy" or equivalent ratings, except for MDC.
How to put the 2022 stock market in perspective
If you are investing with a long horizon — building a retirement nest egg, for example — it is surely a good thing if you have cash to commit at lower prices. Even the S&P 500's SPX, +1.92% long-term average return of close to 10% is a good number, but some investors — and some members of the financial media — seem to expect the stock market to rise in a straight line, even though it has never done so. Consider the past 10 annual returns (yes, the calendar year is an arbitrary cutoff) with dividends reinvested:
Year
S&P 500 total return
2021
28.7%
2020
18.4%
2019
31.5%
2018
-4.4%
2017
21.8%
2016
12.0%
2015
1.4%
2014
13.7%
2013
32.4%
2012
16.0%
Source: FactSet
Buckingham pointed out that there are continual reports in the financial media that this year's stock market has been the worst in decades.
"If you didn't just buy a house three weeks ago, or only begin investing at the start of the year, your net worth is up substantially if you invested for more than two years," he said.
Looking at the figures in the table, above, investors have had an incredible 10-year run, with only two "bad" years, which weren't really that bad. But look at this 10-year price chart for the S&P 500: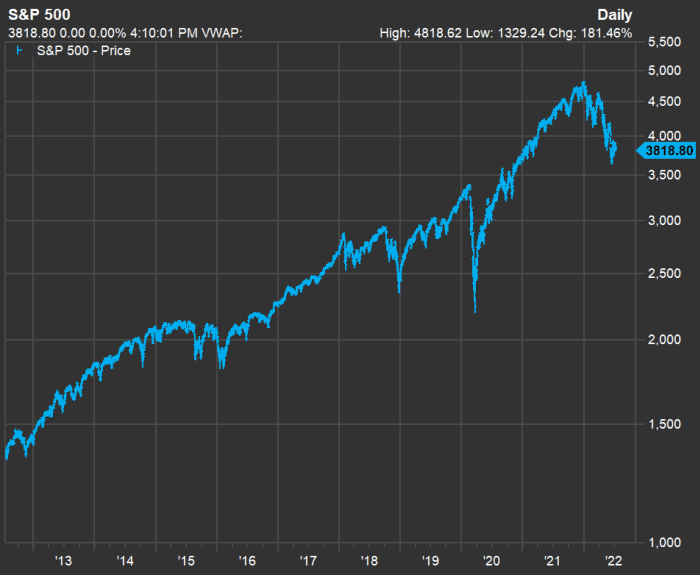 You can see that large pullbacks for stock happen pretty frequently.